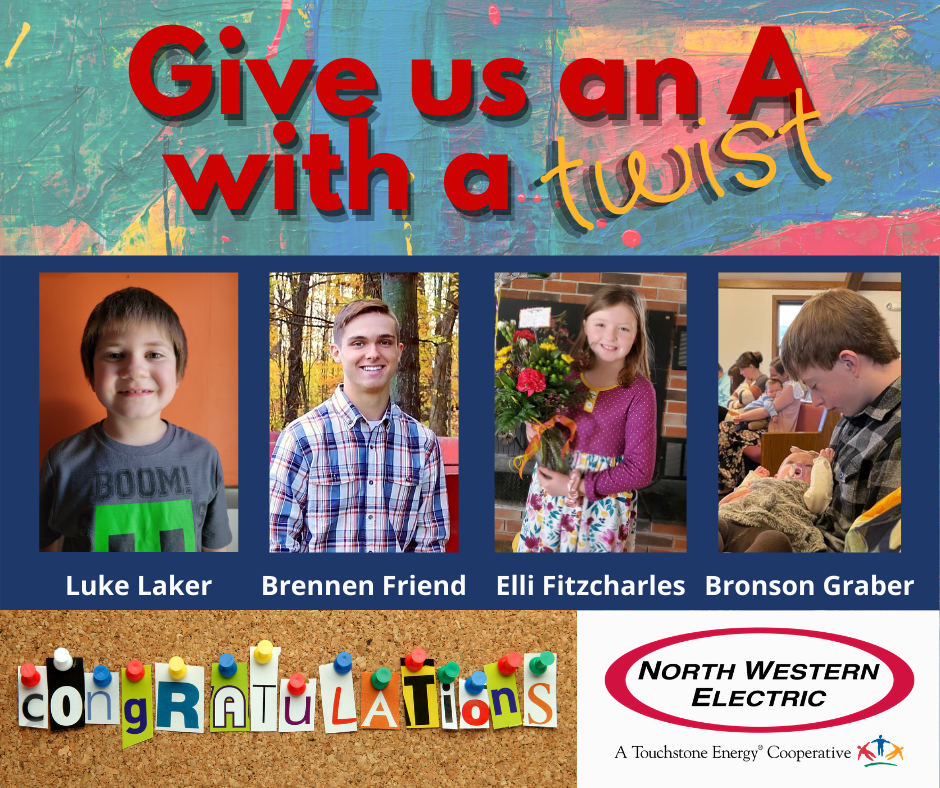 Because of the ongoing pandemic, education continues to take on a different than what we had come accustomed to. Students of NWEC member-owners continue to adapt and try new things and have maintained positive attitudes. Our special contest, Give Us An A With A Twist, encourages parents to tell us why their student (age 5 through 21) deserves to get an A during these hard times.
Each of the four winners received $25, and the parents won a special prize, too.
Luke Laker, Hicksville Elementary School
Luke is 7-years old and was nominated by his mother, Jamie Laker of Hicksville. She said the following about him:
"Luke is well known for giving uplifting compliments to everyone he meets. He is very social and makes friends easily. All his teachers have said what a great student he is, and he has very good manners when it comes to both students and staff. We are proud to be raising such a well-mannered young man!"
Brennen Friend, Montpelier High School
Fifteen-year-old Brennen was nominated by his mother, Stephanie, of Montpelier. His mother had this to say about him:
"Brennen began 9th grade with a goal-to earn all A's all year. As of the end of the 3rd quarter, he has not earned anything less than an A in every class. On top of that, he is a three-sport athlete and will be working two part time jobs this summer. Brennen is a hard worker with a kind heart. He is certainly a deserving candidate!"
Bronson Graber, Hicksville Schools
Bronson is the 14-year-old son of Michelle of Hicksville who said the following of him:
"Bronson is a typical active teen boy who loves to play all sports. Something he loves just as much, though, is interacting with young children. He loves to volunteer in our church nursery and is gentle, kind, and patient with these young children. Someday he would like to have a job where he can work with and make a difference in the lives of children!"
Elli Fitzcharles, Montpelier Schools
Elli is the 8-year-old daughter of Jason and Jennifer of Bryan.  Her parents nominated Elli by saying:
"Elli is such a bright light in our lives! She was recognized as a gifted student this year, being in the top percentage for all subjects as a 2nd grader. Not only does Elli excel in her academic life, with grades ranging from 100-113 in her classes, but she always goes above and beyond for others! For her 8th birthday, she held a fund-raising drive for the Williams County Humane Society as well as Evergreen Nursing Home. Elli loves helping around the house and watering the plants/flowers outside! She also loves hunting, reading, writing songs, and playing with her little sister, Emma. Elli puts a smile on the faces of those that know her, and we always feel that she deserves an "A"!