Everyday Savings
Savings in your hand!  Have you used it yet?
Need a card? Contact us or visit the Connections website to print one at home.
We currently have over 100 local participants in Williams and Defiance Counties!
Check out all the local and national deals on the newly updated website at www.connections.coop
Sign up for even more great savings!
---
Phone App
Want to locate the deals using your mobile device?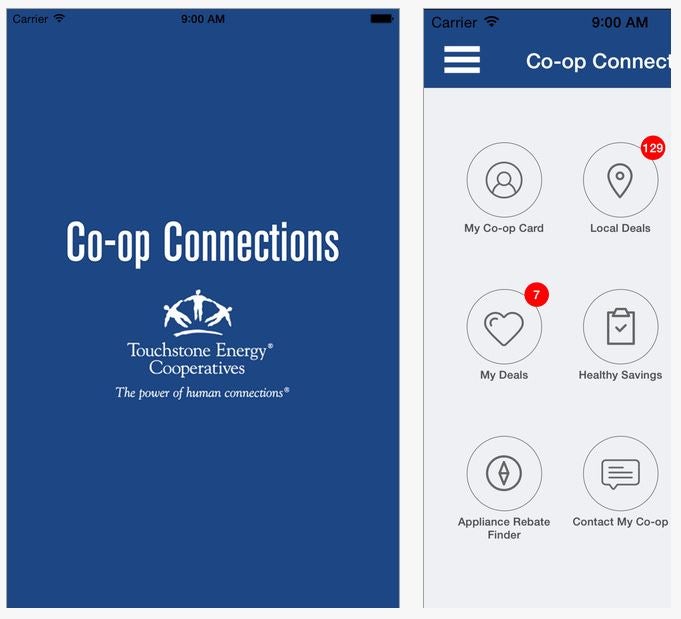 There's an app for that!
Download the updated and improved Co-op Connections app today!
Available for FREE for all your mobile devices.
Take your deals on the road!
---
Healthy Savings
Touchstone Energy® Cooperatives' Co-op Connections® Program helps you save more and live healthier every day! Our highly successful prescription discount offer is now joined by discounts on dental, vision, hearing, lab work & imaging and chiropractor visits. Best of all, you get all these great benefits for FREE!

This is not insurance nor is it intended to replace insurance. This plan provides discounts at certain healthcare providers for medical services. This plan does not make payments directly to the providers of medical services. The plan member is obligated to pay for all healthcare services but will receive a discount from those healthcare providers who have contracted with the discount plan organization. Please review the full list of disclosures for more information. Discount Medical Plan Organization: New Benefits, Ltd., Attn: Compliance Department, PO Box 671309, Dallas, TX 75367-1309.